SHIP TRANSPORTATION ON 
SLEZSKÁ HARTA
Sightseeing cruises on Slezská Harta
Experience the beauty and attractions of Slezská Harta from the shores as well as from its surface! The Harta and Santa Maria ships along with their experienced captains will take you through our beautiful reservoir to interesting places, show the picturesque bays, you can learn about the history of the reservoir and the surrounding villages affected by the construction of the waterworks. You can also use the Rouza ferry between the villages of Roudno and Razová, and the route takes less than half an hour. The docks and berths themselves are certainly interesting, as in Roudno, Razová, Mezina, Nová Pláně or the home port in Leskovec nad Moravicí. The last three named have new port piers acquired from the funds of the Ministry of Regional Development since 2019.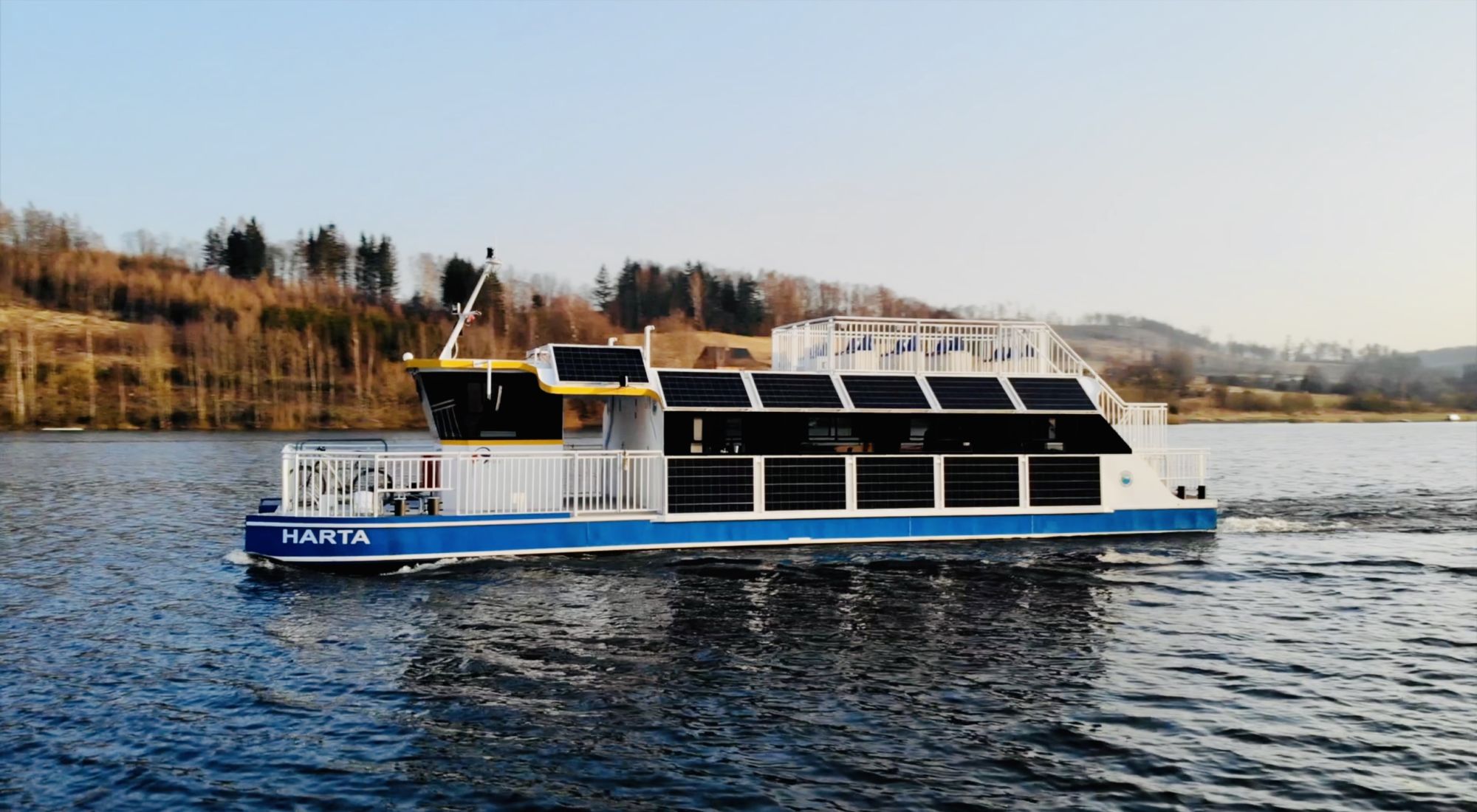 Historically the first large-capacity ship on Slezská Harta, built in 2017-2018 in Poland. Carries 45 people + crew, the lower deck is fully barrier-free, the upper deck is for sightseeing. There is also space for bicycles, prams and pushchairs. The ship's uniqueness is especially in its propulsion, which consists of lithium batteries. It's additionally equipped with solar panels, located both on the vessel's roof and sides. Therefore, the ship's propulsion is fully ecological. Harta is a steel catamaran, powered by electric motors with a total output of 2x25 kW. The ship is 17.99 m long and 5.06 m wide. The ship's production was financially supported by the Moravian-Silesian Region. It has a home port in Leskovec nad Moravicí.
As though it was taken from the time of Christopher Columbus, the Santa Maria ship is a replica of an old wooden sailing ship and is intended for small groups or irreparable romantics. This was the first ship to provide official sightseeing cruises on the Slezská Harta dam.
It's designed for a maximum of 10 people + crew and offers a particularly popular hour-long cruise around the dam with an interesting explanation of the surrounding attractions and the fate of the flooded villages. It's possible to rent this ship for private journeys, celebrations, etc. The transport of live animals, bicycles and prams is unfortunately excluded. This ship first looked upon the water surface in 2010 and has its home port in Leskovec nad Moravicí.